Do you want to write blog post fast?
Be ready because you will learn how to write blog post fast after reading this!
When, started blogging they said that your blog post should be at least more than 1k words. It was really difficult for me to write that long in a short period, and for sure most new bloggers also struggle on how to write blog post fast!
That's why in this article, I will share 12 Useful Ways That Make You Write Blog Post Fast!! Which I'm currently applying to myself and right now writing long-form content is no longer a problem.
And it doesn't take me days to finish it anymore unlike before lol! 😆
So get ready, because after this you'll write your blog post faster this time!
Do you really need to write long post? And is long-form content better?
I will talk about this part real quick. Because this is not what this blog post is all about, but it has a connection.
So it's been on debate for a while, if we (bloggers), should write a short or long form of blog post. Although, you can write a 500 words of post and there is nothing wrong with that.
But, it is said that Google favors long-form content.
Also, according to Hubspot, the average reading speed of English Native Speaking adults is 300 words per minute. Which means, that the ideal blog post length is about 2,100 words.
And then, Hubspot checked on their own blog content and found out that the magic number for blog post was between 2,250 – 2,500 words
Benefits of long-form content
As I mentioned, Google favors long-form content, here's why.
Assuming that your long-form content REALLY offers great value and not just group of words you've typed for the sake of making it long, then it means that your content is full of information.
Also, these things tend to happen if you have a long-form content :
Because, you're providing great value, your visitors will tend to stay longer to absorb all the info you're giving them ;
Longer posts get more social shares;
Good for SEO, hence a good chance on ranking;
Can lead to higher Click Through Rate;
Lastly, creating long-form content, will create an "image" that YOU are actually an authority to your niche.
So, with all these reasons Google will favor your content in a form of higher rank in SERP.
Now you know it"s benefits, you may probably want to try to write longer posts (with value) in short period. Let's move forward.
---
RECENT POSTS
---
10 Useful Ways To Make You Write Blog Posts Fast
As I promised, here are the 12 Useful Ways To Make You Write Blog Posts Fast :
1. Plan your blog posts ahead of time
Well, this is pretty obvious, right? No one can beat you if you have your blog posts lined up and planned. If you've been here and have read my blogs, I mentioned "planning" too many times, because it is what it is.
Planning is important and it is the very first thing you must do if you are trying to achieve something. Not only in blogging but in general.
You can do it by having your own Content Calendar. You can do it on your notebook, or use Google Sheets.
I have a planner that I created and ready for you to use, FREE!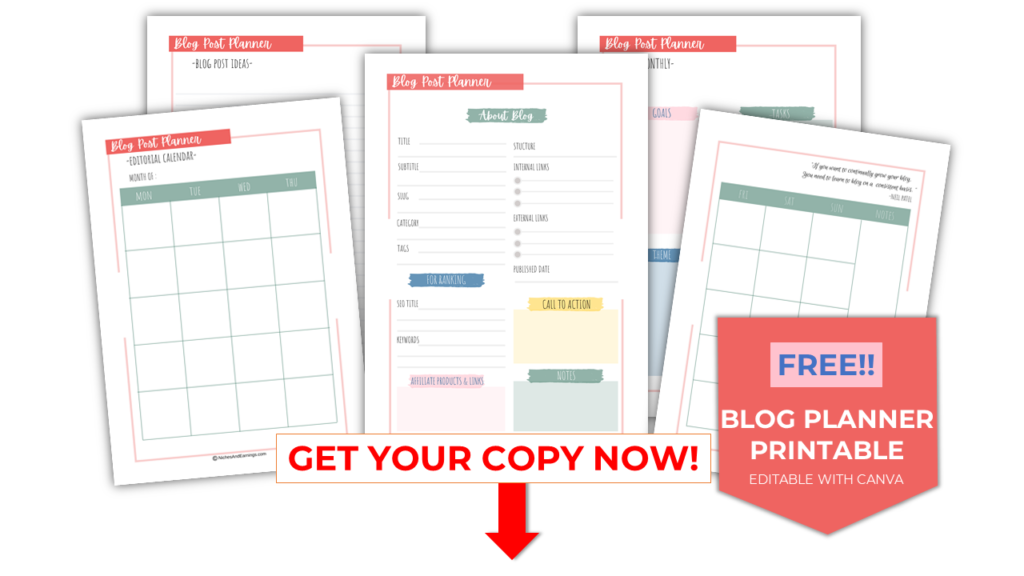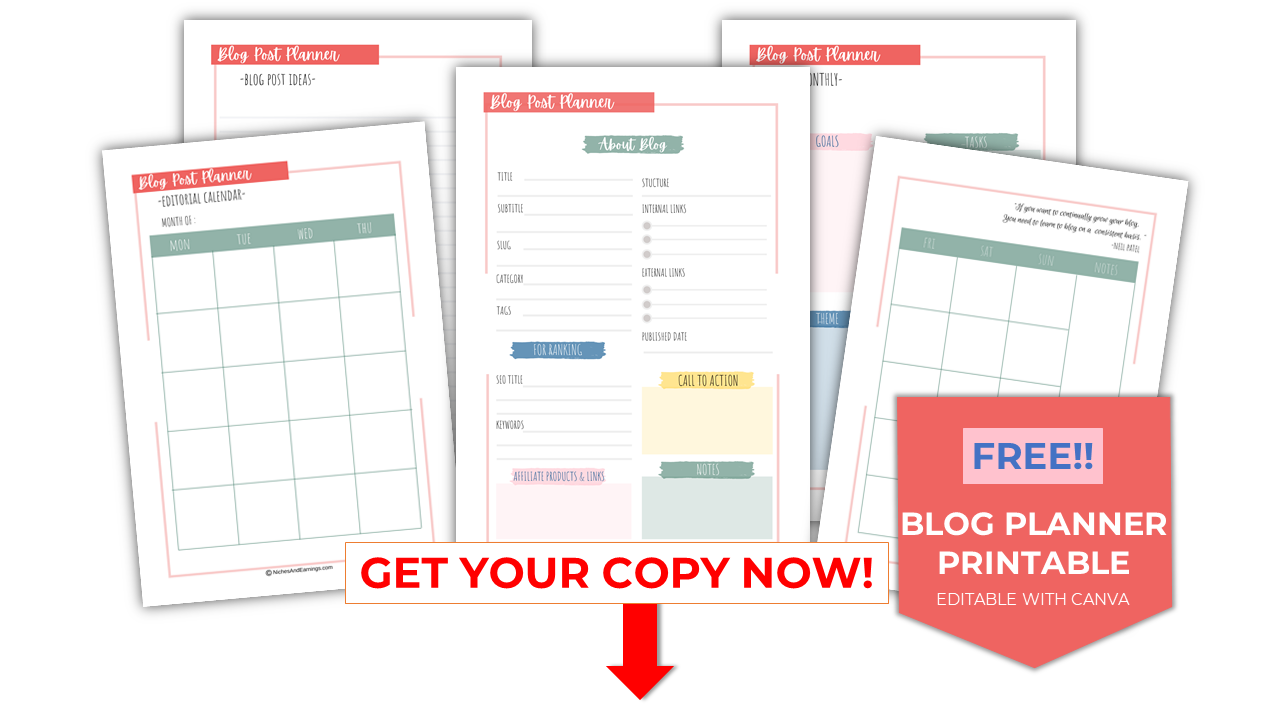 2. Separate your research time
We all know that research that will support our posts may take time. And also, it's fun. But, what normally happen is, you read dozens of blog posts, jump to the other. The next thing you know, you write nothing!
So it's important that delegate a specific time and day for your research. And as you do, don't forget to take down notes of things you want to cover in your blog post.
I'm also struggling with this part to be honest, because of my schedule. But, recently I discipline myself to adhere with my calendar on when to do my research and draft my blog post. So, you can do it too.
3. Gather and organize your notes in one place
Once you're done with your research, took down all the notes. You can can use, Google Docs, or Keeps in doing this. Or any tools that you're using.
Then, make sure to organize those notes and make it accessible when you start drafting your blog post. Arranging it i advance will save you heaps of time.
4. Schedule your writing time
Like having a seperate and scheduled research time, you should also assign a time of a day for you to write your blog post.
Pick a time, where you will be alone, without any distractions. For example if you're a mom, do it while your kids nap or in the morning while their sleep.
In my case, I find writing my blog in the morning after my son left to school and before I go to my shop. And also at night, after all my household work.
Better way to do this is, find a time that will fit your schedule and lifestyle. With being committed to finishing your blog post according to your allotted time frame.
5. Take away all the distraction i.e cellphones / gadgets
This is obvious, right? We already know how our mobile phones can be big of a distraction. A single notification bell ring from social media will result to hours and hours of browsing.
If you can turn it off, then do it.
6. Write now, Edit later
Okay, another thing to disclose with you guys. This part is difficult to break. Maybe because since we were kids, while we write and made a mistake we erase it and do it again, right?
However, when it comes to blogging if you want to write blog post fast, then you need to force yourself to just write and do the editing later.
Just write, and let the ideas flow from your head to your fingers. And resist doing any changes at all.
If you don't, you will slow down your process of writing and suddenly your creativeness will be switched to focusing on detailed level of your blog, like punctuation marks etc.
Remember that your goal is to create a blog post draft.
7. Mark while you write
What I mean by this, as you write, make sure to leave a mark where you need to put something in between paragraphs.
Like these things for example :
Images / screenshots
Internal links (links to your other blog posts)
External links (links to other websites)
Affiliate links if available
Your CTA / Content Upgrade / Opt-In
Leave a mark where you want these things to be inserted. Let say in my case, I will write down "— images —" to the section where I should insert images.
You can do something like that.
8. Create an outline
This is gold, well at least for me. This is the best solution that I had that made me write long blog posts easy and fast.
When, was just starting and created my very first sets of blog, it was really difficult for me to compose 1K words of single blog post!!
But, after hearing, "Create an Outline for your Blog" in one of the training I have. I realized, why I didn't think of that? It's like when we were at school. In writing essays or summaries, we were taught to create an outline first, right?
After that training, I always have an outline first, and guess what? It is far more easy to write and fill in the gaps.
Normally, outline goes something like this :
Introduction
Body
Solution / Conclusion
And from that, you can create sub topics or sub headlines that you want to address in your blog post. By that it will expand your post.
As a result, you write a 1K + word blog post fast and easy!
9. Use Templates to write blog post fast
Using templates will really help you write blog post fast! Because it's already lined up and outlined. So all you have to do is just to fill it in.
And you know what? Your blog posts will have uniformity (sort of) once you use a template. Though one thing you should remember in using template is that, the main parts of your blog posts should not be compromised.
I myself, use templates. You will see that my recent posts has the same flow.
10. Set Timer
While this one didn't work for me (I feel pressured on writing) other bloggers actually suggested it. That's why I decided to include it in this list.
You may try it and see for yourself. How you do it is, simply set a timer. You can either use your phone or use something online like Egg Timer, which I mentioned in this post > Best Blogging Tools for New Bloggers.
If you try it, let me know how it works for you.
11. Do not write
I know, you'll be like – "Wha- ?"
Do not force yourself to write, if you're block, you're block. That's it! Do not sit in front of your computer staring at the monitor while trying to squish your brain.
What you can do is, to stop writing, stay away from your desk, sleep, eat, walk or whatever you want to do. This is important to avoid burnout and stress.
It's okay if you won't able to come back on writing within that same day. Remember, it's your blog, it's your business!
After you get your needed break, you'll feel that you're refreshed and ready to write again.
12. Write, write, write!
It's funny, above I just said – Do not write, now I'm telling you to write! Lol!
What I mean is, practice writing. You don't have to do it seperately, because the more you write blog posts, the more you get used to it.
And later on, you'll notice that you write your blog post faster! So, if you're a new blogger and just started, don't beat up yourself if it takes you days to finish a single post, it's normal.
Just what Dory said : "Just keep writing, just keep writing." lol!
A quick reminder though.
Do not aim for perfection and be confident.
As long as you will not write for literature project, then it's okay not to be perfect. But, it doesn't mean that your sentences would be grammatically incorrect or publish your blog post with tons of misspelled words!
Just write the way you talk, that way your readers will be able to relate and level with you.
Also, do not try so hard to cover everything in your blog post. If in case there's a topic you missed, don't worry you can add or update your blog post anytime.
That is the beauty of writing in the web.
The other thing I'd like to say is that be confident. Own your words. The more confident you are, the more you will become trust worthy.
Recap
For those of you who like to skim… Ouch!
12 Ways to Make You Write Blog Post Fast
Plan your blog posts ahead of time.
Separate your research time.
Gather and organize your notes in one place.
Schedule your writing time.
Take all the distractions.
Write now, Edit later.
Mark while you write.
Create an outline.
Use templates.
Set timer.
Do not write.
Write, write, write
Wrapping Up
Blogging is fun but it is a hard task. Not to mention that it is also time-consuming.
When you blog, your job doesn't finish after hitting that publish button. There are a lot of things to do after that. So you may want to save time whenever possible as much as possible.
Most especially if you're a beginner blogger, your plate is full, so you really want to write blog post fast! So that, you will be able to do other stuff.
That's why I'm sharing these 12 Useful Ways to Make You Write Blog Post Fast. Apply these tips and you will see yourself writing a blog post faster in no time.
I truly hope this you find this post valuable. Please do share these tips.
How about you? Do you have certain ways to write your blog post, fast? Let me know in the comments below!
See you in my next post!
PIN ME!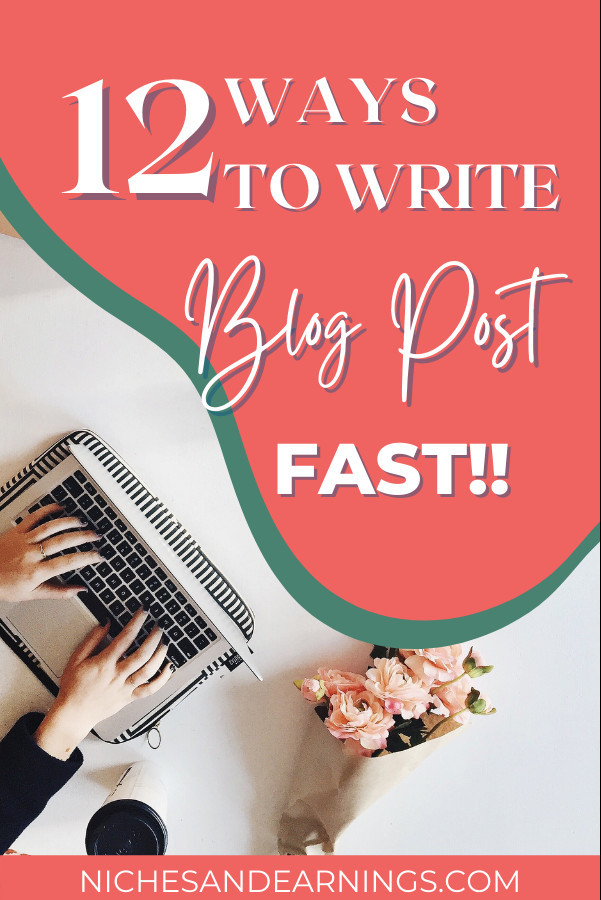 Don't forget to share! Sharing buttons right here :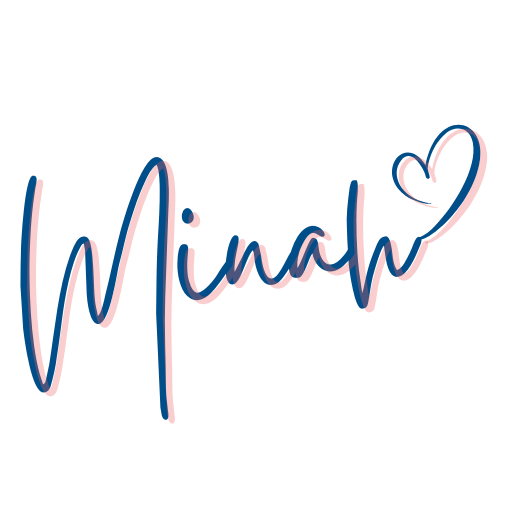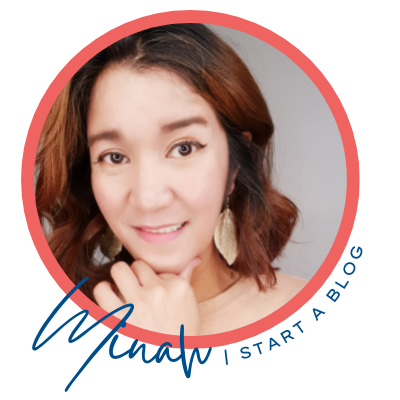 Hi there! It's Minah, the blogger behind of  Niches and Earnings | Start A Blog.
I created this website to be a place where you can get information on how you can start your blog. Basically, this blog is like my journal about blogging where I share things I learned about blogging, things that a blogger must do and things that what most bloggers do the moment they started blogging.
Every post you'll see here are mostly blogging tips.
Let's connect on social media too!