Can't decide how to pick a domain name for your blog?
Many people who want to start a blog have difficulty on how to pick a domain name for their blog. Although the process should not be difficult sometimes, we want it to be perfect.
That's why in this post I will talk about ways that you can do to pick the right domain name for your blog. So you won't have to suffer and be exhausted.
PIN ME!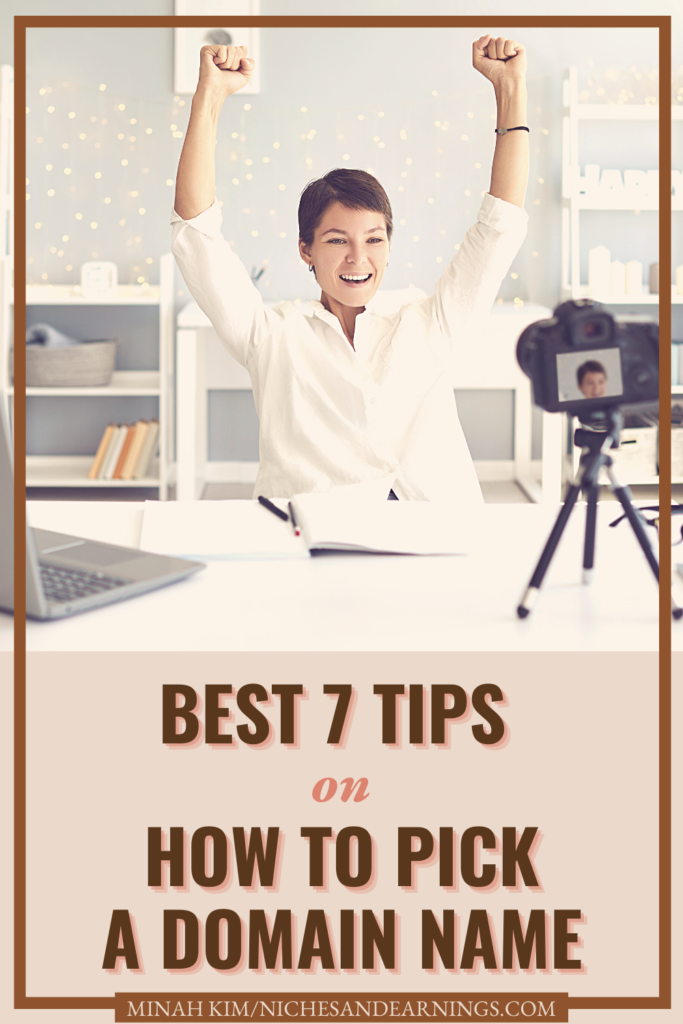 Disclaimer: This post contains affiliate links. Which means that if you happen to purchase any products that are recommended in this post by using the links provided, I will earn a small commission with additional cost to you. For more details please read our disclosure here.
What is a domain name?
First let's discuss, what is a domain name? And why do you need to choose it wisely?
Wikipedia defines a domain name as an identification string that defines a realm of administrative autonomy, authority, or control within the internet. Sounds too complicated.
To make it simple, a domain name is a unique name that your website is called. And people would type in that "unique name" in the address bar to search for your website.
As you can see, a website address is divided into 3 parts: Subdomain, Domain Name, and Top-Level Domain
Domain Names
Are the second level of domain hierarchy (after top-level domain). With a specific TLD, domain names should be purchased and registered at an officially recognized domain registrar.
Top-Level Domain
Top-Level Domain or TLD is the formal suffix that appears at the end of the domain name. There are various TLDs that you can choose from such as :
.com
.net
.org
.edu
.co
For specific countries like :
And I've seen some ends with
Let's see it in action.
So, it's like your house address on the internet. For example, my blog's domain name is www.nichesandearnings.com, and Google is www.google.com, and so on.
Typically, your blog name automatically becomes your domain name and it should be registered at an officially recognized domain registrar.
Why do you need to choose domain name wisely?
You need to choose your domain wisely as you choose your blog name because of the following reasons :
Your domain name will represent you and your blog.
It will remain to you no matter what.
Your domain name will be your brand and it will be the one that you'll be known for.
What is hosting?
I decided to include hosting in this topic because often people get confused between domain name and hosting. Probably because you can also host your site to where you bought your domain.
Before we go any further, what is hosting by the way?
If your domain name is your house address is your domain name then, hosting is the piece of land where you build your house. It is where you keep your data
How to choose a domain name for your blog?
Choosing a domain name is almost the same thing as choosing your blog name. Because your blog name is going to be your domain name.
Although it sounds like it is a simple process, choosing your domain name for your blog can be a huge hurdle particularly when starting.
Because everyone wants to have that "perfect" domain name that more often leads to wasted time to research and trying to find that awesome, brilliant and perfect domain name. But in actuality, it doesn't exist.
I know it for sure because I was in that position once.
8 Important things to remember in choosing your domain name
Above all else, you need to remember is that you do not need to spend days trying to come up with a "perfect" domain. Because no matter how good and attractive your domain be if your content sucks then, your blog will suck!
1. Your domain name should be relevant to your niche
As much as possible you should choose a domain name that is relevant to your niche because of different reasons. Such as:
It will be easier for your blog to come up on search results which is a huge benefit. Let's say, someone typed in "gardening" , if your domain name has the term "gardening" then, there's a chance for your blog to come up on search results.
Your audience will easily know what type of content you create by simply looking at your website name. It will give them the idea of what help they can expect from you or whether your blog is the right "fit" for them.
For example, if the domain name is ThisIsMinah dot com it doesn't say anything about the blog at all. But, GardeningAtHome dot com does. There is an exemption to the rule though. And that is, if you are trying to build yourself a brand.
2. Brandable/Memorable
Since you are building your authority in your niche you would want your domain name to be memorable, something that will stick to your audiences' minds. If people remember you by your domain name then it means that you have built a brand for yourself.
3. Avoid hyphens, dashes, and symbols.
Here's why. Imagine your domain name like this: www.she-knows-gardening-at-home.com, not only do the dashes already affect the readability of your domain and it can be really awkward to say it out loud!
And according to Moz, the use of hyphens correlates with spammy behavior. But if you think that there's a need to use a hyphen, dash, or symbol, then try to limit it to one.
4. Make it easy to say and spell.
Because if your domain name is easy to say and spell, then you don't need to spell it out loud every time you tell people about your blog. Also, I mentioned another explanation in this post as to why.
5. Choose a domain name that is short, catchy, and simple.
Well, for starters not everybody has a good memory, I included! So, if your domain name is short, catchy, and simple it is more likely to be remembered by everyone.
Also, according to Google Domains, 2-3 words will be the ideal word count for a domain name. And to aim for 6-14 characters.
6. See to it that your domain name is available to use for social media account.
Whether you're going to use social media along with your blog or not. You have to make sure that your chosen domain name is available to use on any social media platform just in case you decide to have one.
And you can use namech_k for this purpose. What it does is, it will let you know if your chosen domain name is available on all social media platforms. Check out this post to see it in action.
7. Always go for dot com (.com)
Although there are many TLD (Top-Level Domain) that you can use these days, it is still advised to use .com. Because of many reasons to name one, 54% of all websites on the internet use .com.
And most of them are the big ones like Amazon, Facebook, Apple, Google, and many more!
---
Related Posts:
---
Where to buy domain names for your blog
There are hundreds of places where you can buy your domain name. But, if you are just starting to blog, you better choose the one that can do hosting and give you a free domain.
It will save you money rather than doing it separately.
Free Domain Registration with Web Hosting
The following are a few of the most popular domain registrars and web hosting sites. Hope you can find one that fits your needs.
NameCheap is a popular Domain Registrar that even Neil Patel is promoting. Namecheap can offer you a free domain name if you buy a shared hosting with them.
Aside from the ability to buy and register your domain name, NameCheap has over 400 domain extensions that you can choose to go along with your domain name.
NameCheap hosting plan is Stellar at $1.88/month. The original price is $3.88 but they offer 52% off on your first year. Not bad to start with.
BlueHost
BlueHost is popular among bloggers when it comes to web hosting.
Not only that, BlueHost has its domain search tool available for you to use as well. So, there's no need for you to go somewhere else. You can search and buy your domain name and host it all in one place.
You can create and build your website in BlueHost for as low as $2.75/month.
HostGator is another popular domain registrar and it is also a one-stop shop. HostGator offers website owners the ability to choose, purchase their domain name and offers shared-hosting as well.
They also have their domain search tool that you can use in case you haven't figured out yours with a variety of domain extensions that you choose from.
HostGator has different plans that will suit your needs but if you are just starting, their Shared Hosting Plan for $2.75/month is enough for you to start.
Surprise! Well, I decided to include Wealthy Affiliate in this list because aside from it being an Affiliate Marketing Training Platform, you can also host your website with them at the same time.
What I mean is that you can create your WordPress website within the platform. You can buy your domain name and host it with Wealthy Affiliate. That's why I called the platform a one-stop shop in my recent post.
The difference between hosting your website with Wealthy Affiliate and other hosting sites I mentioned here is that you can only buy your domain name and host it to Wealthy Affiliate if you are a member.
This website is hosted with Wealthy Affiliate and so far, I didn't have had any problem at all.
What I like about it, is that you can rest assured that if you have any technical problems, you'll be attended to immediately by WA's 24/7 SiteSupport.
What you can get
Just in case you're wondering if you decide to build a website and host it with Wealthy Affiliate, you only have to buy your domain name, and the hosting is included in your membership.
And domain name prices vary on the TLD of your choice.
You might think it's expensive, but it is not. As I said, everything will be included in your membership fee such as the following :
The above image is my actual Wealthy Affiliate account. And all the things mentioned above are included in your membership.
You can focus on the "Website" category if you'd like to know what are you getting if you decide to be a member and host your website with Wealthy Affiliate.
To know more about the platform, please read this post: What You Should Know About Wealthy Affiliate
Wrap Up
How to choose a domain name for a blog is one of the most important steps in starting your blog. Together with finding a place to buy your domain name and also finding the right hosting platform.
Although NameCheap, BlueHost, and HostGator are some of the leading web hosting platforms among bloggers because of their low prices, choosing Wealthy Affiliate to host my blog is by far the right decision I ever made.
Yes, it can be expensive but, everything you need to start a blog and learn how to monetize your blog is already included in your membership.
I hope you find this post helpful on how to choose a domain name for your blog.
Which of these is your best takeaway? Let me know in the comments below and you find this post helpful, please do share it. I'll see you in my next post!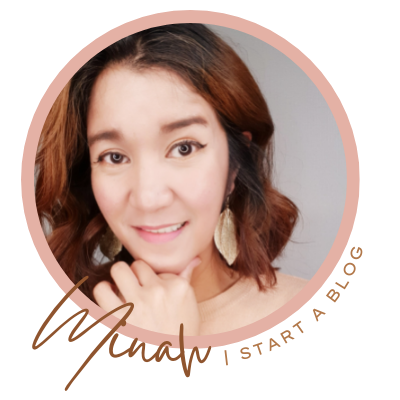 Hi there! This is Minah, the blogger behind of  Niches and Earnings | Start A Blog.
I created this website to be a place where you can get information on how you can start your blog. Also tips on blogging, how to use social media for your blog and make money in the cofort of your home.
Let's connect on social media too!