Welcome to my Jaaxy Review 2021
If you're a content creator, affiliate marketer or a blogger, then you know how crucial keywords are! And how difficult to find the "perfect" keywords for your content. Read my Jaaxy review to know more.
Also, you're a new blogger, it's even more difficult. That's why I created a review post about Jaaxy Keyword Research Tool, a comprehensive tool in finding high traffic keywords with low competition for all type of online marketing.
So, you won't struggle searching the right keywords for your next blog post!
What you will learn in my Jaaxy Review
Although this is an in-depth review, I'd like to know that I tried my best to make it concise and brief as much as possible.
So, without further ado, these are the things you will learn about Jaaxy :
What is Jaaxy?
Who is Jaaxy for?
How to use Jaaxy?
Jaaxy's Main Attraction
Jaaxy's Additional Features
How much is Jaaxy?
Things I like about Jaaxy
Things I wish Jaaxy has
After learning all the things I mentioned above about Jaaxy, it will help you decide whether Jaaxy is for you or not.
---
Do you have a blog? Wondering how to make look like a professional even though you're a newbie? Read this post :
---
Just to let you know, I am actually using Jaaxy as my keyword research tool. And this review is based on my own experience from using it.
---
*By the way, I would like to tell you that there are affiliate link(s) on this post. Which means that if you click any of it, will lead you to Jaaxy website and if you happen to buy it, I will get a commission with no extra cost from you. Here's my full disclosure.
---
This is a very long post so I prepared a summary for those of you who prefer to glance. But reading this whole article from top to bottom will benefit you and will help you understand Jaaxy more.
---
Summary : Jaaxy Review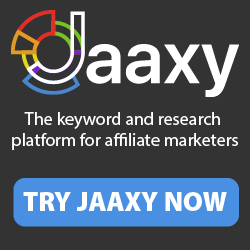 Product Name : Jaaxy Keyword Research Tool
Founder : Kyle Loudon and Carson Lim
Price :
Starter Trial  –  $0 (30 searches)
Pro               – $49 / mo
Enterprise     – $99 / mo
Summary :
Jaaxy is  a revolutionary keyword research tool that has easy-to-use, straight forward features that suitable for newbies and experts alike.
For :
Bloggers
content marketer
affiliate marketers
website owners
freelance writers
more…
Rating :  95/100
Recommended : YES!
---
---
What Is Jaaxy?
Jaaxy is a keyword research tool, that most online marketers are using.
If you're running a website and wants to get free traffic from (any) search engines, then, you got to have a decent keyword research tool.
You need to have target keywords in every content you create because, without it your post(s) or your content will be scattered and not focused.
Thus, you won't be able to attract your target audience as well.
A keyword tool helps you :
Discover trending or related keywords to target
Gives you information of target keywords such as :

SEO score
Number of searches it has per month
Its competition
How much traffic will it give you in case your post landed on first page of SERPS
And that is what JAAXY is capable of.
My Jaaxy review will tell you why Jaaxy is good for new bloggers.
I highly recommend Jaaxy to because of the following reasons :
Jaaxy is easy to use that even a newbie can use it.
It is straight forward.
It doesn't have bells and whistles that can confuse newbies.
It's an online platform so, no need to download.
Who Is Jaaxy For?
So, before we dive in— first I want to put emphasis on Who is Jaaxy for in my Jaaxy review and who can benefit from it.
If you think you are on the list, then, I encourage you to read further because I can assure you, this post will help you decide whether Jaaxy is for you or not.
Jaaxy is beneficial for you if you are :
Professional Bloggers
Budding Bloggers (Newbie)
Site Flippers or Domain Flippers
Niche Chaser
Content Marketers
Affiliate Marketers
Email Marketers
Freelance Writers
PPC Advertisers
SEO Companies
If your Niche is about Viral News or What Trending On the Internet
Did you find yourself on the list? If you do, then, grab a coffee and stay with me.
How Does It Work?
Like what I've said earlier, Jaaxy is a revolutionary in finding high traffic keywords with low competition for all type of online marketing. It uses all the collected data from the three main search engines : Google, Bing & Yahoo. So, giving you highly preferable keywords as a result.
Not only that, it provides its users useful information such as the average number of many times that keywords(s) is being searched a month, the number of visit you'll get in case you land on the first page on the search engines, QSR, KQI and…
You know what? Why shouldn't I show you what's inside Jaaxy? You may click this video to witness How You Can Use Jaaxy Like a Boss.
---
Here's a related post you might be interested :
What You Should Know About Wealthy Affiliate ( An Honest Review )
---
Let's proceed to my in-depth review of Jaaxy.
Learn Jaaxy's Main Attraction in this Jaaxy review.
From the picture above, you'll notice that there's pink box. And for me, I called it Jaaxy's Main Attraction, because this part is what I use the most.
As my example, I used the keyword "make money online" and it gave me some other related keywords and important data that I can use as well. These data are as follows :
AVG ( AVERAGE )
Average which means the number of searches that the keyword receives per month. Which means, with the use of our example, the "make money online" keyword is being searched 72,459 times per month!
TRAFFIC
From the word itself, this will tell you how much traffic or how many visitors that your website will get in case your post make it to the page one of search engines. So, with the "make money online keyword", I can expect to have 12,319 people visiting your website, if— you achieve first page rankings on search engines.
QSR ( QUOTED SEARCH RESULT )
Will tell the number of competing websites ranked in Google for this exact keywords. With "make money online" keyword, there are other 234 websites that are ranked in Google for this exact keywords, that's lot!
KQI ( KEYWORD QUALITY INDICATOR )
Very straight forward. You will see on the picture above, green is for Great, yellow is okay or Normal and red indicates that your chosen keyword is Poor.
SEO ( SEARCH ENGINE OPTIMIZATION )
This is a score based on traffic and competition, the higher the score the more likely you will rank for this keyword on the first page. The higher number the better, if the result is close to 100 the better.
DOMAINS
Availability of the domains that are related to the keyword. This one here will be a big help if you are in domain flipping business or sells website. But, this portion can be a key feature if you want to buy a domain that is keyword rich. With example that we have here, Make Money Online as a keyword :
As you can see, in the image I provided, there are at least five available domain names that include your target keywords. But unfortunately, the ".com" domain name is not available.
It is highly recommended, although not necessary, that your domain name should have ".com".
Alright, now that you have the idea on how Jaaxy works… Let me tell you the other additional useful features of Jaaxy.
Jaaxy's Additional Features
 1. "The Alphabet Soup"
For those of you who doesn't know what alphabet soup is… let me explain :
I didn't know Alphabet Soup either until I became a Wealthy Affiliate member.
Have you ever notice that when you do your research on Google, you typed in your keywords— and Google just completes the search for you? It gives you the possible keywords that you are searching for.
Google predicts what you are about to type. And these results are based from the terms that are commonly searched recently. Let me show you.
As you can see from the keywords that I typed in, "How to sell…" Google predicted that I maybe trying to research on : How to sell on amazon How to sell on eBay How to sell on coupang (it's an online store here in Korea) so on and so forth…
Now, in Alphabet Soup technique, I will use the same set of keywords plus the letter a :
How to sell + a
See what happened? This will go on and on as you add any letter (in any order) to your target keywords.
What is the essence of it? You may ask?
Well, it gives you ideas, concepts on what to write based on your chosen niche.
From the example above, you can only see that Jaaxy has given me the result only up to the letter c. But it actually comes down to the letter z.
After that, you can do a research on that particular keywords or you can save it for future use. How cool is that?
2. Saved List or Keyword List Manager
As you go on and eventually get the hang of keyword research, you'll find yourself ending up with lots of it. You may write those keywords somewhere, but you might lose them.
This is how Jaaxy's Saved List comes in handy. Because, it gives you the ability to save those keywords in one place for your future use. Or even use them for your PPC Campaign. You may export those lists on a .txt format or on a .csv.
3. The Search Analysis
This feature is bigger than what you think, why?
Because, this Jaaxy Feature… It allows you to "spy" on your competitors! But not in the bad way, okay? It just that, Jaaxy shows you all the important information that you can use as a leverage to compete with them!
I actually ranked #7 on that same Keywords.
So what I am showing you here is, that Jaaxy provides you the top 10 REAL TIME PAGE 1 GOOGLE RESULT. Do you see those View Details buttons? If you click on that it will show data about what are your competitors doing or have done with their article that lead them to rank on Page 1 of Google, Bing or Yahoo.
And those data are as follows :
Meta Description
Keyword Density
Word Count
Backlinks
Alexa Rank
Ad Sense (If they're using or not)
Having you the knowledge or access to these particular data, will help you figure out what you should do and not to do on creating your article or use these to your old posts that are not ranking to get them ranked.
Like for example, the Word Count and Keyword Density, search engines particularly Google loves site that is long quality content but not over stuffing with keywords.
So this feature is big for me personally. Knowing WHO you are competing with, what are they doing, gives you an edge on writing a content that can stand them or perhaps outranked them!
4. Site Rank
Site Rank– another useful and important feature of Jaaxy.
From the title itself you can already tell, what it does, right? Site Rank shows you, your website rank for a particular keyword.
With a long tail keyword "Ways To Make Money on Wealthy Affiliate", you can see that I ranked #8. And you may see your competitors' rank too. (I noticed that I made a mistake on my meta description… oops!)
Tracking your rank can be done manually as well, but if you're also concern about your rank in other search engines such as Bing and Yahoo, Jaaxy made it possible to see three search engines all at the same time. So, another less work!
Another good thing about it is, it lets you track your Site Ranking automatically.
---
Here's another post you might like :
How to Start A Blog – Beginners' Guide
---
5. Affiliate Programs
This is somewhat helpful for affiliate marketers. Jaaxy made it easy to find Affiliate Programs that you can join.
All you have to do is to typed in you keywords that you are targeting, and Jaaxy will give you information regarding Affiliate Programs along with the commission details and the Affiliate Network. Here is an example :
From the image above, it shows the Affiliate Programs, the Product Website, the Commission and even Alexa Rank. Jaaxy has included 4 Affiliate Networks:
ClickBank
Commission Junction
Link Share
Digital River
It will save you time on searching for Affiliate Offers, but, for me it's limited. There are so many networks out there that you can find.
6. Brainstorm
This is what Brainstorm look like inside Jaaxy :
As you can see, it contains topics that are trending on Google Trends, Alexa, Amazon and Twitter. It will be helpful if your niche belongs to any of these topics.  This will be beneficial if you're in Viral News Company or your website covers that niche.
But, for me, it is not. So, I don't actually use it for now.
7. Jaaxy Help or Jaaxy Tutorial
For this part, I don't use it. Because, I have already learned from the training inside the Wealthy Affiliate plus there are more new training about Jaaxy inside WA.
And I believe, I have to be honest on this part, I wish that they could update the tutorial. When you get to see it, it still covers Jaaxy 2.0 and you'll notice the date. Although, there are no big difference between the older version versus the version now, but yet… it will be more helpful if the video is up to date.
8. Jaaxy Affiliate Program
If you become a premium member of Wealthy Affiliate, you automatically have the privilege to use Jaaxy as a starter member.
And also you can be a Jaaxy affiliate. A chance for you to earn a lucrative income.
Check the image below to see your possible earnings if you promote Jaaxy :
This means that, if you promote Jaaxy to other people or to your friend, and she purchased Jaaxy's pro version, you can earn $20 monthly as long as she is subscribed.
Anyway, please check the pricing form the image below:
CHECK OUT MY RECENT POSTS :
How Much Does Jaaxy Cost?
Okay, now I'm going to talk about the pricing here. It is a delicate matter because most of us are after for free stuff, right?
But here's the thing— Everything that you can get for free is limited, (of course) besides, you are actually building your business here so… spending bucks is expected and just consider it as an investment that will benefit you and the growth of your business.
Here is a quote that I read from one of WA member's blog, it says :
"The act of payment creates a sense of commitment."
Which is very true in many aspects.
Here's the price range and what you can get from it :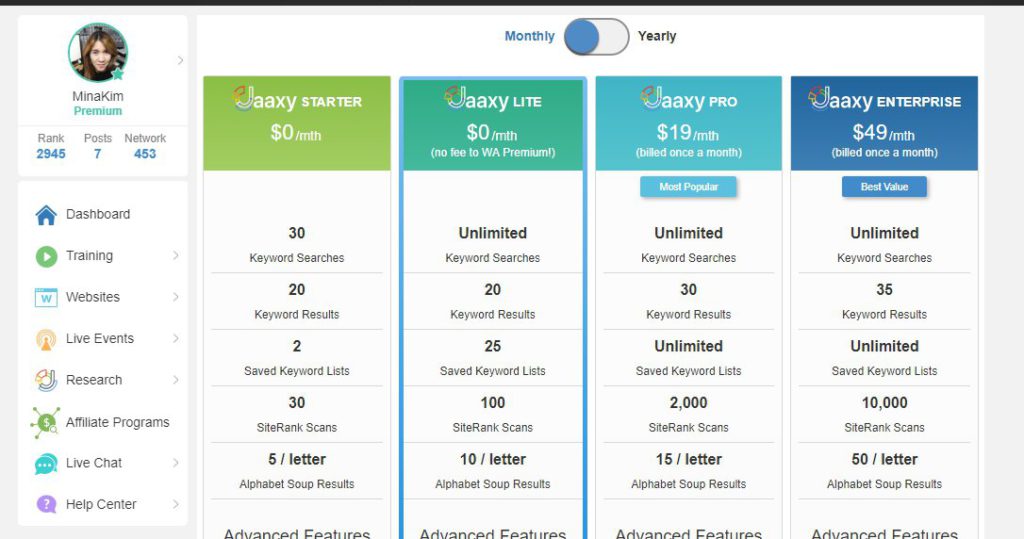 But! There's Jaaxy Lite
Wait… What?
You maybe asking, What is Jaaxy Lite?
Jaaxy offers much lesser price range or in a discounted price if you are or become a Premium Member of Wealthy Affiliate.
And… if you are WA Premium Member, automatically you'll have a JAAXY LITE MEMBERSHIP!! which means you still have the opportunity to use it before you decide to upgrade your membership.
Oh, and by the way I've written a review if you wish to know more about or what is Wealthy Affiliate. Check my post.
So here's what you gonna get with JAAXY LITE :
Unlimited Keyword Searches 25 Keywords Result
100 Site Rank Scans
10 / letter Alphabet Soup Result
With Advance Features :
Manual QSR (Competition)
Manual Domain Availability
Affiliate Program Search
I know that we are all rely on visuals here. So, I provided an image to understand it more and for you to compare it as well.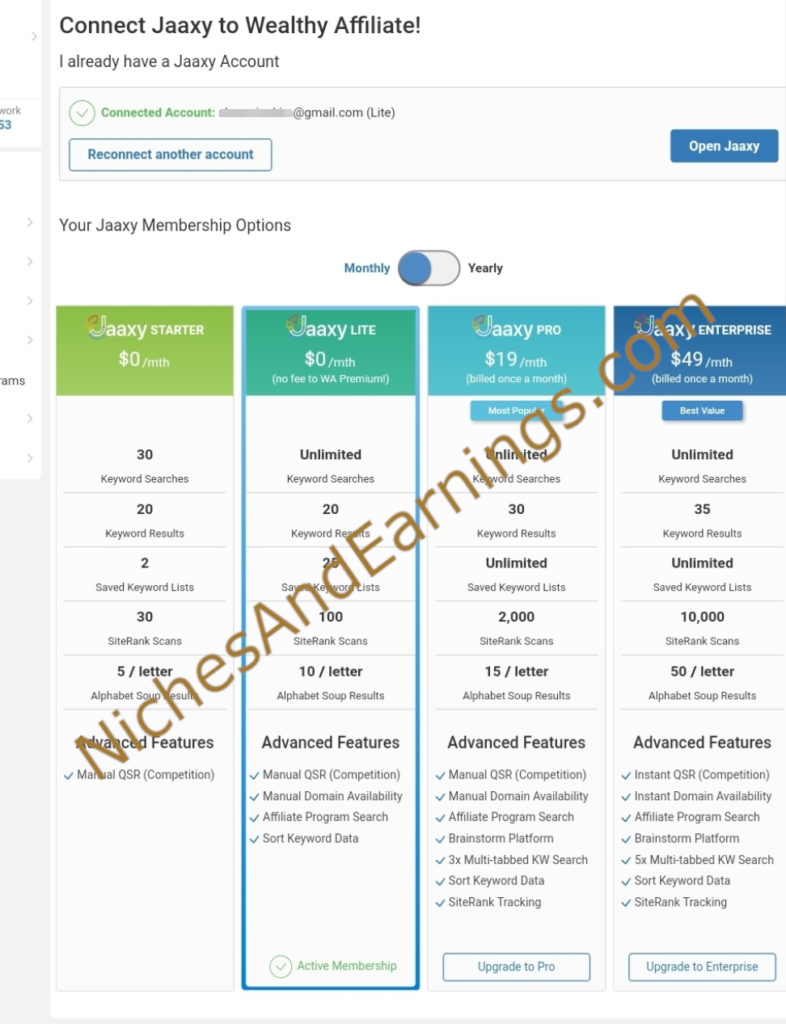 How cool is that? This is one of so many proof that being in Wealthy Affiliate is awesome. It just keeps getting better and better as time passes.
And let me tell you this, this offer for Premium Member happened only last December of 2017!
If you wish to read further more, Carson on of the owner of WA wrote a post about the the new Jaaxy. Access it HERE.
Things I Like About Jaaxy
Well, I like Jaaxy so far for following reasons :
Very Straight Forward
Beginner Friendly (Super Easy to Use)
Fast and Accurate
It gives Important Data and has Useful Features

Keyword Search Data
Features like :

Alphabet Soup
Search Analysis
Site Rank
Keyword Management
Things I wish Jaaxy Has
I wish Jaaxy has or can be used locally and to have a language option. It might be too much to ask, because I know that most Keyword Research Tool doesn't have those either.
It's just that, my husband and I run a local business as well. So, I wish I could use Jaaxy for that purpose too.
Wrapping up
All in all, I like Jaaxy, obviously. Jaaxy may not be the most famous and perfect Keyword Research Tool that you can find, yet Jaaxy gives you what it promised to give you. And you will not get disappointed.
Other Keyword Research Tools out there may give tons of data that can be confusing especially to beginners.
Besides, Jaaxy is created by the Founders of Wealthy Affiliate. The company has been in the business since 2005! So rest assured that Jaaxy is reliable and trust worthy.
Lastly, Keyword Research Tool, whether it's Jaaxy or others, remember that it will be just a "TOOL" to help you and me to rank on search engines. It is not a button to success or a golden nugget.
At the end of the day, the work will still be up to us. What I'm trying to say is "
JAAXY + CONSISTENCY + HARDWORK = SUCCESS
The Verdict
Of course Jaaxy is a revolutionary tool. Therefore, it is highly recommended!
Try it for FREE!
Good news is, you can try it with NO CREDIT CARD REQUIREMENT!
GIVE IT A TRY !
Your Thoughts
Whew! This post finally came to an end! Hope your still reading.
I don't want to leave you just like that– You know that your thoughts are so important to me.
What Keyword Research Tool you're using? or used? Have you ever used Jaaxy? If yes, you can tell me if I missed anything thing that you want to add or correct. Please share your experiences, I would love to hear 'em!
Let's exchange stories on comments!
If you find this post informative, please do share it.
Thanks and I'll see you on my next post!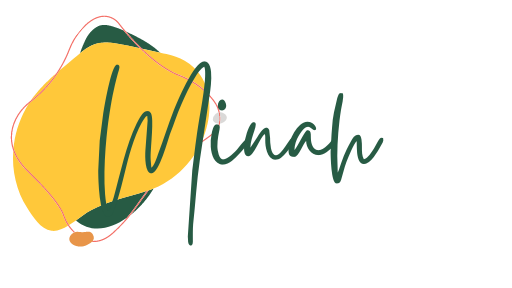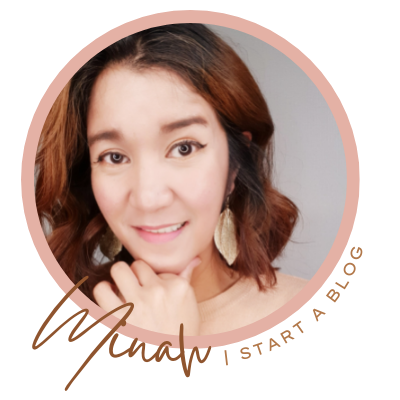 Hi there! This is Minah, the blogger behind of  Niches and Earnings | Start A Blog.
I created this website to be a place where you can get information on how you can start your blog. Also tips on blogging, how to use social media for your blog and make money in the cofort of your home.
Let's connect on social media too!