Do you know that you can earn or make money WITHIN WEALTHY AFFILIATE ALONE?
Many of you may have encountered Wealthy Affiliate, specially when you are in pursuit of finding ways to make money online. For those of you who doesn't know what Wealthy Affiliate is, It is an Affiliate Program that offers training and educates you about online business, it can be an Affiliate Marketing or Internet Marketing.
Its training is so comprehensive and advance, that will help you to be successful whether you are an Affiliate Marketer or Internet Marketer in whatever niche you're at.
Suggested article:

In an effort to be completely transparent, I want to let you know that I have an affiliate relationship with some of the companies whose products or services I recommend.
This means that, at no additional cost to you, I will earn a commission or credit if you decide to buy any of their products or services. Click here for more.
Old members say that you can Earn while you Learn in Wealthy Affiliate.
And here is why : THERE ARE WAYS TO MAKE MONEY ON WEALTHY AFFILIATE.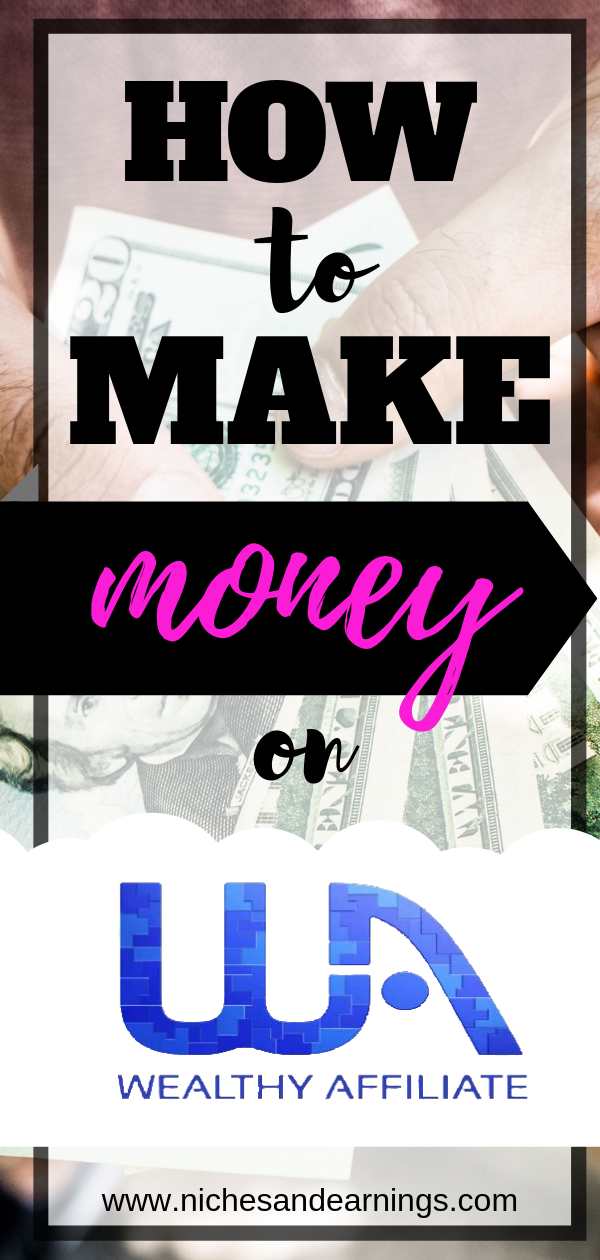 The Wealthy Affiliate's Affiliate Program
As I mentioned earlier, Wealthy Affiliate teaches you Affiliate Marketing through building your own website and write quality content that attracts potential buyers, which at the end, if that buyer buys from your link— then— you earned money
In addition to that, once you become a member of Wealthy Affiliate, you're automatically become its' Affiliate as well– BUT–only if you choose to promote Wealthy Affiliate.
So, How much are we talking?
What is exciting about Wealthy Affiliate's Affiliate Program is, even you are JUST ON STARTER MEMBERSHIP (free), you can earn money by being an affiliate/referring WA to people.
So let say, if your referral upgrades to Premium membership, during special offer period (paying first month of $19 instead of $49), you will get $4 with recurring $11.75 monthly commission!
And if that referral upgraded to Yearly… You'll get $87.50 yearly commission!
Those are the commissions you'll gonna earn as a free member!
Now what if, YOU, yourself upgraded to Premium membership? Well, you will be getting Double of what a Starter member is earning. Which is :
During the Special Offer Period : $8
Recurring Monthly Commission : $23.50
Yearly Membeship : $ $175
Sounds good, yeah?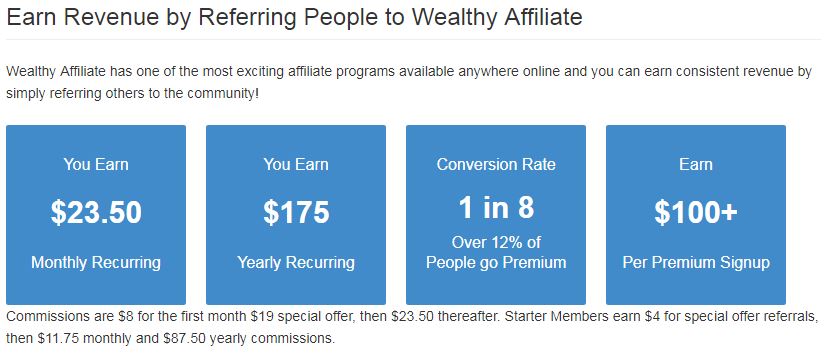 Image from Wealthy Affiliate.com
Creating A Training
Yes! Members in Wealthy Affiliate can also create training. He/She can teach or share his/her knowledge to the community. I explained how I feel about this, on this post.
But in order for you to create one, You have to be a Premium Member and only when you reach your third month. You can create training that covers anything around building an online business.
It can be tips about blogging, WordPress, Plugins, Social Media etc.
Anything that you think would be helpful to others. You will be paid 10 credits which is equivalent to $5 in level 1. And there are 5 levels available that you have to reach.
The more popular your training gets the easier to reach the said levels.
If you are interested to learn about this, you can check this post by one of the WA's Ambassador ——-> HERE
Wealthy Affiliate's SiteComment
Last October, Wealthy Affiliate released an upgrade of the SiteComment— which is now called SiteComment 2.0.
So what is the difference? You can be a Certified Commenter and Earn Revenue!
This is my account– I haven't worked consistently on SiteComment yet, so… you won't much.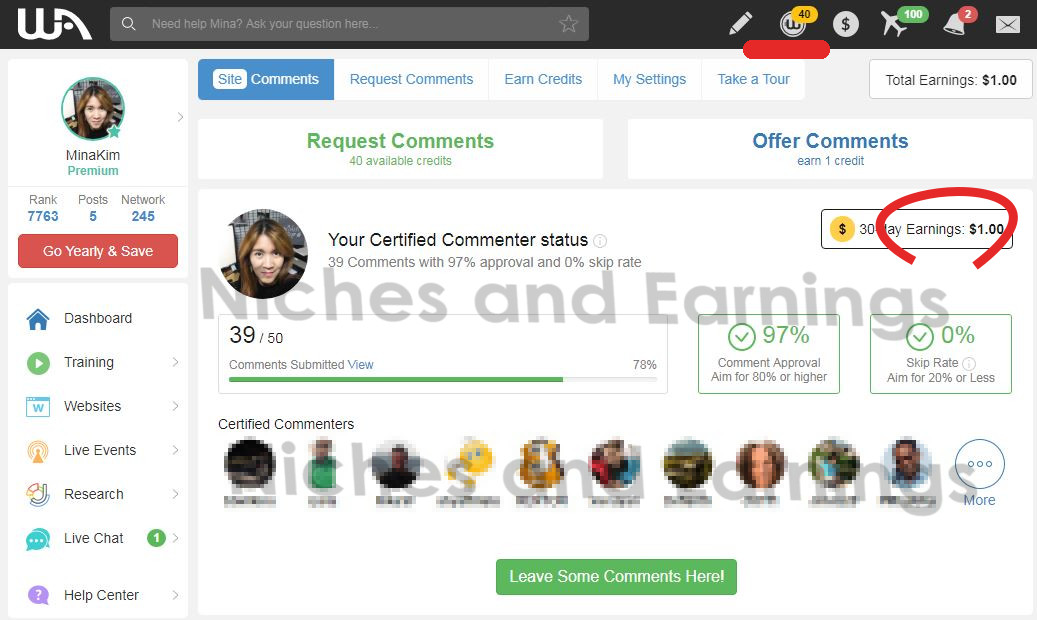 And this is Carson's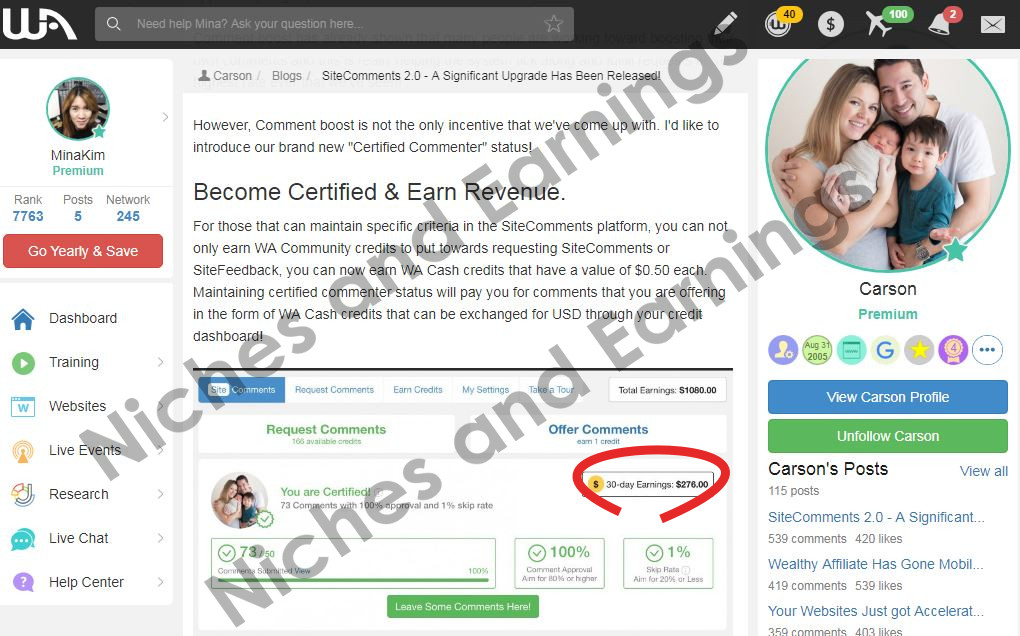 For those that can maintain specific criteria in the SiteComments platform, you can not only earn WA Community credits to put towards requesting SiteComments or SiteFeedback, you can now earn WA Cash credits that have a value of $0.50 each.
Maintaining certified commenter status will pay you for comments that you are offering in the form of WA Cash that can be exchange for US Dollars through credit dashboard.
This is indeed a great way to provide those members, "Certified Commenters" some incentives as a token of appreciation for helping to spark engagement and discussion to each and every one's website.
Jaaxy Affiliate Program
Since you are a member of Wealthy Affiliate. You have the opportunity to make use of Jaaxy Keyword Research Tool which is very helpful in creating a quality and SEO -friendly content.
Not only that, as a user, you are also become a Jaaxy Affiliate. If you refer someone to Jaaxy, and upgrades, you'll get $20 monthly and $200 yearly, as long as your referral stays as a member/Jaaxy user.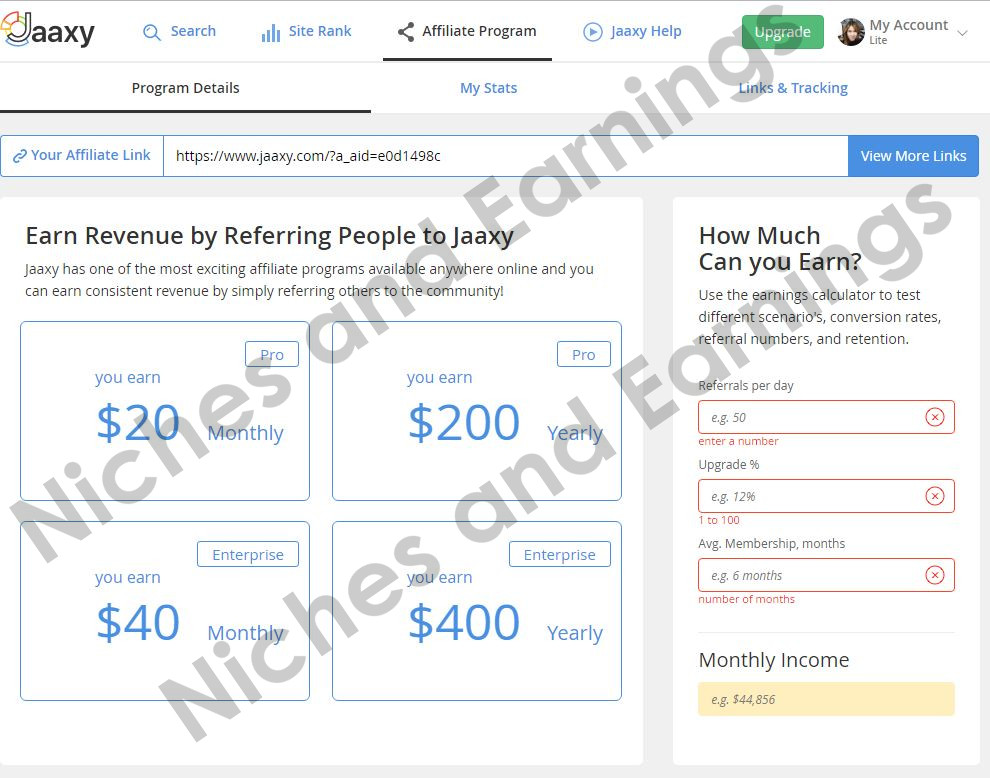 Not bad huh? You don't need to go out of Wealthy Affiliate roof to earn some bucks.
The last question you might be asking— How much does it cost to join Wealthy Affiliate.
I included the WA pricing and some information regarding Wealthy Affiliate in my previous post. ——–> HERE
But, here is THE GOOD NEWS! Wealthy Affiliate is having a Black Friday Promotion that will give you a huge discount on Premium Yearly Membership! I encourage you to take part of this SPECIAL OFFER. And I can promise you that you won't regret it!
There you have it! Wealthy Affiliate value their members indeed.
Now you know that YOU CAN EARN MONEY WITHOUT LEAVING THE WEALTHY AFFILIATE ROOF! Another reason to consider when choosing an affiliate program to join to.
So I hope you try and see it for yourself and experience the Wealthy Affiliate benefits.
Join now, and get your 2 Websites for FREE!!

NOTE :
The information I provided will not make you rich. These are just ways to make a FEW BUCKS within Wealthy Affiliate.
Wishing you all success,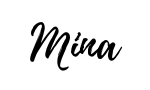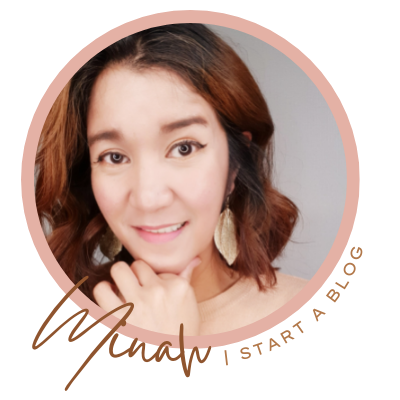 Hi there! This is Minah, the blogger behind of  Niches and Earnings | Start A Blog.
I created this website to be a place where you can get information on how you can start your blog. Also tips on blogging, how to use social media for your blog and make money in the cofort of your home.
Let's connect on social media too!