Instagram, Facebook, Twitter, TikTok, LinkedIn or Pinterest – Which one should you use for your blog?
Have you ever wondered what is the best social media for your blog?
With so many social media platforms out there as well people who have succeeded on using it, you as a new blogger would definitely ask, which social media is the best social media for your blog.
In this post, I will try to answer your question based on data and based on my own experience as well. Because, asked the same exact question. I remember, I even asked if you really need to have a social media account to run and grow a blog.
Do you really need social media for your blog?
The answer is YES and NO. It actually depends on your goals, your niche and personal preference. Let me tell you the reason why people use social media in the first place.
The common reason that most of the bloggers / content marketers, business owners, online marketers etc use social media is to increase their reach, their audience and potential customers.
And also for the following reasons :
To build an online presence.
To show credibility.
They can be known known.
For bloggers like you and me– Free blog traffic is the common reason.
Joining the trend since almost all people in the planet are in social media these days.
To support the latter, there are people who are huge and already famous yet, they're in social media to reach more of their audience and to further their influence. Like celebrities for example.
Do you really need social media for your blog? Or as a blogger?
The answer is NO, if you are someone who are :
Doesn't like social media.
Does not want to follow the trend.
Knows SEO really well.
Gets sufficient blog traffic already.
Has a niche that doesn't compliment with social media.
The answer is YES if you are someone who :
Has a niche that compliments social media. For example : Travel, Crafts, Arts, DIY, Health and Workouts or anything that is visual.
Likes social media.
Good at social media.
Needs social media for blog traffic.
Has a job that involves social media.
Wants to increase reach.
Wants to have an online presence.
Has an online business depends solely on social media.
Above are my yes and no answers to the question : Do you really need social media for your blog? So, all you need to do is to analyze and categorize yourself whether you are in NO side or in YES side.
Here's the thing I'd like you to remember though :
"To have a social media along with your blog is not a requirement to be a successful blogger."

– Minah
---
RECENT POST
---
Pros and Cons of social media for your blog
Although social media can help you and your blog to grow it has its own pros and cons that you should be aware of before plunging into the world of social media.
I didn't like social media at first, but, after using it for a couple of months, I realize that I actually enjoy it. However, it's not easy. That's why in this part of the post I'll lay to you the Good and the Bad of social media.
Pros of social media for your blog
1. It increases your blog reach
According to Statista, as of 2021 there are over 3.78 billion people worldwide who uses social media! Which is a huge number for your blog to exposed with.
2. Good for social networking and building relationships
This works for both your audience and your competitors as well.
Your audience will connect with you easier through your social media account rather than to your blog post. Because in social media you would normally post your own pictures, your family, and you create short videos from time to time talking to your audience.
These can make your followers feel connected with you on more personal level. They can see YOU as YOU and as a person rather than as entity.
Social media is also a good way to connect with your competitors. These days, you don't look at them as an "enemy" instead look at them as a peer at your work. Where you build relationships with and maybe collaborate with them later on.
3. Social media can help you bring traffic to your blog
This is the part that I really like in social media. It can really help you to drive traffic to your blog. Especially if you are just starting out and your blogs are not ranking on SERPS yet.
How social media can drive traffic to your blog? I'll discuss it later on this post.
4. It brings out your creativity
Creating graphics will be your major task if you decided to use social media for your blog. And because of this, you need to create your graphics that are beautiful, aesthetic and eye-catching for you to stand out.
5. It makes you credible and increase your authority within your niche
It is pretty normal these days for people to check everything online even checking out other people. Well, unless you're famous and well-known everybody seems to know you automatically.
Having a social media account is like your resume or proof of work.
For example, if I see a product or an online course before I buy it I would first check the creator's website. Next, is I'm going to check the creator's social media profiles to see what other people saying about the product, and the creator's work in general.
Cons of social media for your blog
1. It can be time-consuming
Not only creating your graphics is time-consuming, the act of "being" in social media is also time-consuming.
Because you need to spend an amount of time every day to engage with your audience. Engagement like answering comments and commenting on other accounts, Liking other posts and stuff.
The good news is, there's a platform that doesn't require you to do all of that. You'll get to know it later on this post.
2. Social media can be your number one (de)motivator
Warning : You can get demotivated easily if you're in social media. Since everything is visual particularly on Instagram, you can easily fall into comparing yourself to others.
So, that's one thing you should be careful about.
3. Your life can be exposed
Since posting pictures of nature, pictures of you on coffee shop or motivational quotes are not enough to get exposure on social media, these days you are more required to share a bit of your personal side.
Because that's how you get more relatable and build connection with your audience.
Now that we have discussed the first layer of the topic, let's proceed on finding out what's the best social media for your blog.
Let's talk about each platform to see which is the best social media for your blog
The following are the most common social media platforms that are being used today. I will explain each platform so you will know which one will fit exactly for your blog.
Facebook
Facebook is the largest among the social media platforms. With 2.895 billion monthly active users (MAU) worldwide and currently with 1.908 billion daily active users (DAU) on average.
Facebook age and gender demographics
Now, let's talk about the age and gender demographics of Facebook users.
As of July 2021, 56.4% of its users are men and 43.6% are made up of women (Statista). And still according to Statista, the largest age group that uses Facebook belongs to 25 – 34 years old which comprises 18.8% of men and 12.5% women.
How to use Facebook for your blog
Is probably your next question. Well, Facebook organic reach is difficult unless you'll create ads for your business or for your blog.
I personally use Facebook for my blog through different Facebook groups. Where bloggers help each other to grow by sharing their blog posts, social media platform, answering questions and sometimes you can even promote your products or services.
Instagram
Instagram is one of the biggest social media platform. Started in 2010 as a photo sharing app, it evolves into a platform where different businesses are competing.
It has 1 billion monthly active users (MAU) and 500+ million daily users (DAU) according to Facebook.
Instagram's age and gender demographics
So, who uses Instagram the most? Well according to Statista, 32.1% of its users are people who are 25-34 years of age. While the second biggest age group that uses Instagram are those 18-24 years of age, that's 29.9%.Statista
How to use Instagram for your blog
Right now there are a lot of Instagram features that you can use for your blog. Unlike the early days. Now, IG offers different ways on how to reach your audience.
You can use IG for your blog by creating :
Reels
Story
Carousels
Video
Going Live
It's only up to you if you're going to use these features or not. You also have the option to use Instagram Ads.
Pinterest
Pinterest is the 14th largest social network in the world. Started in 2010 where most people (me included) used to pin their favorite recipes interesting images.
Now, Pinterest with 459 million monthly active users (MAU) worldwide, turned into a search engine where people not only pinning but searching for ideas and information. So, if you're a blogger, it's like Pinterest is a must.
Pinterest age and gender demographics
Majority of Pinterest users are women with 71.1% and 14.9% are men. The leading age group who uses Pinterest are those who are 50 – 64 years old.
The graph below shows the Pinterest age demographics in the US.
How to use Pinterest for your blog
You can use Pinterest to drive organic traffic to your blog. And it really works. Now, you have multiple options on how to do it like for example :
Creating pins (the normal one)
Creating video pin as a normal pin
By creating Idea pins.

It can be multiple pins
A single video pin
TikTok
TikTok started in 2016 in China and released internationally in 2017. It became famous for enabling its users to create short videos. It became a hit that other social media platforms started to have the same feature.
They can be known honest without looking at statistics we can tell that young people are the general users of TikTok. However, it changed eventually when other age group started to enter the platform as well.
TikTok age and gender demographics
TikTok has 1 billion monthly active users! So it's like, 20.83% of 4.8 billion internet users uses TikTok. With 53% of it are male and 43% are female.
The following graph will show you TikTok's age and gender demographics in the US.
How to use TikTok for your blog
So far the only to use TikTok to drive traffic to your blog is to create short videos about topics you talk in your blog. For example if you have a how-to blog post, you can create a video about by actually showing how it's done or simply by just talking about it.
Twitter
Twitter is know for social networking and micro blogging. It started in 2006 where people used to catch news and talk about and by sharing your opinions.
But in time, Twitter can be used in different ways. Upon using Twitter, all I can say that it is a fast pace because people are talking in real time
Twitter age and gender demographics
Twitter has 211 million daily active users (DAU) as of October 2021. The largest age group that comprises 38.5% of the total Twitter users come from 25 to 34 years old. Followed by 35 – 49 age group with 20.7%. And unlike other social media platforms. Men use Twitter than women.
How to use Twitter for your blog
Unlike other social media that you literally intend to post your blog to get traffic. Twitter on the other hand is somewhat the same with Facebook Groups.
Aside from sharing your blog post via link to your Twitter account, you can participate on different "threads". And there are different threads going on almost every day.
For example, thread where you can share your blog post to get comments, share your other social media accounts that you want to grow etc. However, you really have to engage and be friendly.
LinkedIn
LinkedIn was launched in 2003 that was primarily used for professional networking and career development. And a place where job seekers post their resumes.
However, many years later, it is now known to be the world's largest professional network with nearly 800 million members in 200 countries worldwide.
LinkedIn age and gender demographics
Men are the majority of LinkedIn users with 56.9% while women covers 43.1%. As of July 2021, people who are between the age of 25 – 34 covers the 59.9% of all LinkedIn users followed by age group 18-25 with 19.6%.
The following graph will show the distribution of LinkedIn users worldwide by age group as of July 2021.
How to use LinkedIn for your blog
A lot of people say that using LinkedIn for your blog will be beneficial. The reason, you are actually talking to "professionals" who are willing to spend time and even money if you are able to grab their full attention.
There are many ways on how to get your blog in LinkedIn such as follows :
Directly share your blog with link to be seen my LinkedIn users
Join a group that relates to your niche
Blog directly with the platform
Like any other social media, you need to be active in LinkedIn as well so people will see your profile more often. The more you engage and show up the more people will get to know and eventually follow you.
So…
What is the best social media for your blog?
To answer the question, what is the bestt social media for your blog is to ask yourself :
Knowing your target audience is the only way to know which of these social media platform the best to use. If you know your target audience, it will be easy for you to figure out which one is the best to use.
Simply because, you know what platform they hang out.
Wrapping Up
These are just the few of the leading social media platforms that are commonly used by bloggers like you and me.
While mastering SEO and having your own email list are far the greatest way to get organic traffic for your blog, leveraging social media is something that you can consider as well especially if you are just starting out.
Things that you need to remember in using social media
Although using the right social media for your blog can be beneficial, the downside is that it is really time-consuming so you have to be strategic in your content planning.
You can use premade social media templates or by outsourcing.
That's all for now. I'll see you in my next post!
By the way, let's connect on social media, link below!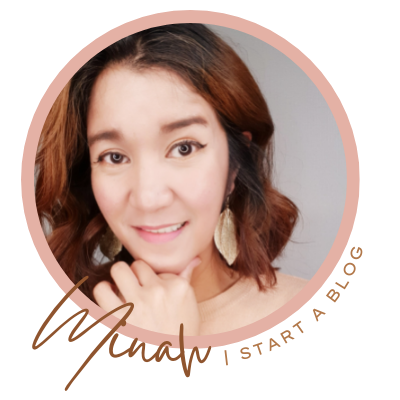 Hi there! This is Minah, the blogger behind of  Niches and Earnings | Start A Blog.
I created this website to be a place where you can get information on how you can start your blog. Also tips on blogging, how to use social media for your blog and make money in the cofort of your home.
Let's connect on social media too!