I've been hearing this "WEBTALK" recently. I see posts/blogs and receive invites in Facebook. Some says, it's the "new thing" in social media, a good replacement for Facebook. While others believe otherwise.
So, out of curiosity, I decided to dive in. And because I am a person with dignity lol, I chose to be invited by the first person who introduced me to WebTalk (I received a lot of invites…). And actually, there is something that caught my attention, reason for me join WebTalk.
THE PRODUCT
PRODUCT NAME : WEBTALK
PRICE : FREE AND WILL ALWAYS BE [ Though there's an Upgrade involve that you don't have to. I will discuss that later in this post. ]
STATUS : Beta Testing and Invitation Only
WHAT IS IT?
A WebTalk is a or another form of social media.
Where you can maintain your personal, professional, and business life online. It is (or will be) the first all-in-one communication, collaboration, and commerce networking community. Built to help you better and save time.
With WebTalk, you strengthen relationships with more targeted and visible communication.
In WebTalk, YOU have the power to control your contacts, feed or info that you are sharing.
WebTalk puts YOU in-charge of who sees what and when.
And the good news is… It's FREE. Right now it is still on Beta Testing, so users are able to use the features with no limit. And it is also FREE to be an Affiliate.
In an effort to be completely transparent, I want to let you know that I have an affiliate relationship with some of the companies whose products or services I recommend.
This means that, at no additional cost to you, I will earn a commission or credit if you decide to buy any of their products or services. Click here for more.
THINGS I LIKE ABOUT WEBTALK
Well, first and foremost, like what I said it WebTalk gives you the power to control of who sees what and when.
So basically, with any other social media accounts, you only have "friends" or "followers". While, in WebTalk it allows you to create multiple networks / list of networks. That gives you the choice on what 'Data' they can access to your profile, whether your personal data only, professional data only, or both. (PIC)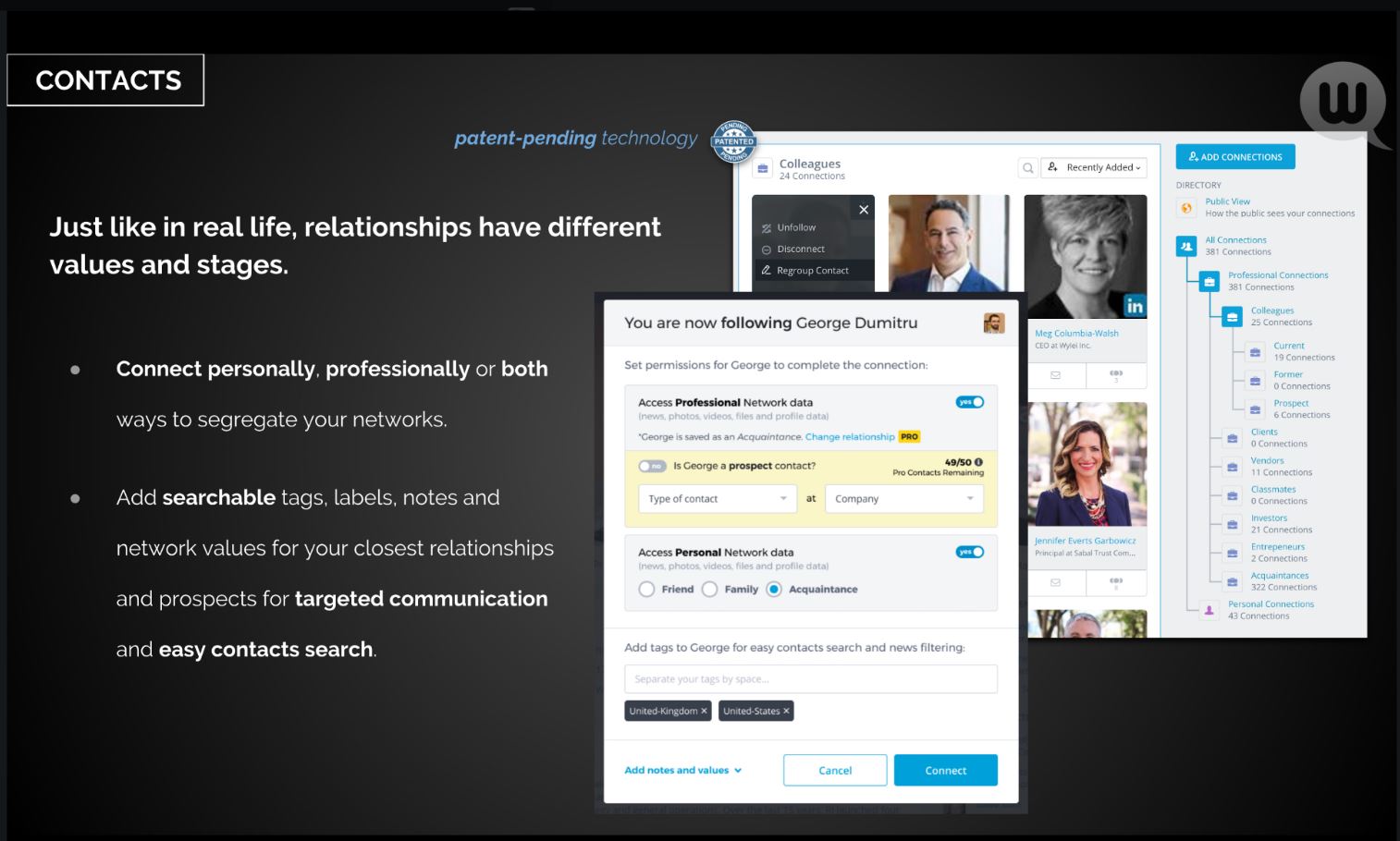 ( Image for WebTalk.co )
The second thing, "THE REFERRAL COMMISIONS"
WebTalk is sharing 50% revenue for life
or the 5-Tier Bonus with its Beta users. And this is the part where most people are going crazy about.
This is the reason why they're saying : "INVITE THEM BEFORE THEY INVITE YOU"
Like what I mentioned, WebTalk is currently in Beta Testing, and they are rewarding the first 1,000,000 members, or the 'Beta Testers", 50% revenue for life, for helping Webtalk to grow its community through referrals.
[Update: They have removed the limit of Beta testers. The 50% revenue for life, will also be available for people who join WebTalk before it goes live.]
During Beta testing, the pre launch of the affiliate program is available within your WebTalk account. All referral now will begin paying commissions upon the official launch of the affiliate program or the SocialCPX as they called it, planned to launch early 2019!
Only Beta testers who join now are eligible for the referral program paying up to 50% of all revenue for life! After Beta testing is completed, the affiliate program will pay 10% for life. Beta testers are guaranteed the commission program paying up to 50% for life.
WebTalk is sharing up to 50% Revenue for LIFE with Beta users for helping WebTalk to grow its community and generate revenue early so the company doesn't have to raise venture capital to fund the process and lose control of their mission to change how Social Networking operates.
Think about that, Facebook generated $40 BILLION last year, which means if and when we reach their size we could be paying out up to $20 BILLION in commissions to all of you, our Beta users every year.
With that being said, all the products that WebTalk built over the years, they are giving its Beta users a FREE OPPORTUNITY OF A LIFETIME to share in WEBTALK'S SUCCESS in BIG WAY!
Exciting isn't it? This is the reason why, I joined. And hopefully you too.
Check out WebTalk —- Here
The 5-Tier Bonus for Beta Testers
I would like to explain this part in a very simplistic way. Because I don't want you to click my link, without full knowledge of it and discover something that might disappoint you later on.
In order for you to qualify for 5-Tier Bonus,
You have to have completed your profile according to its Completeness Meter.
Which includes : Adding your experience, your education, you have uploaded your photo, added a short bio, added 10 connections (friends/followers) added contact info. And finally, get a recommendation.
And then you should start referring people to WebTalk, since it's on "invitation only" period, if somebody clicks your link and join WebTalk, automatically that person will be under you.
So, as an Affiliate Team Trainer, if ONE of your referrals upgraded or purchase any of WebTalk's PRO Premium Packages (monthly or annually)… You then be rewarded—
10% Revenue Share For Life on all revenues generated through a 5-tier referral network (people you invite,, they invite, who they invite through 5-Degrees of separation)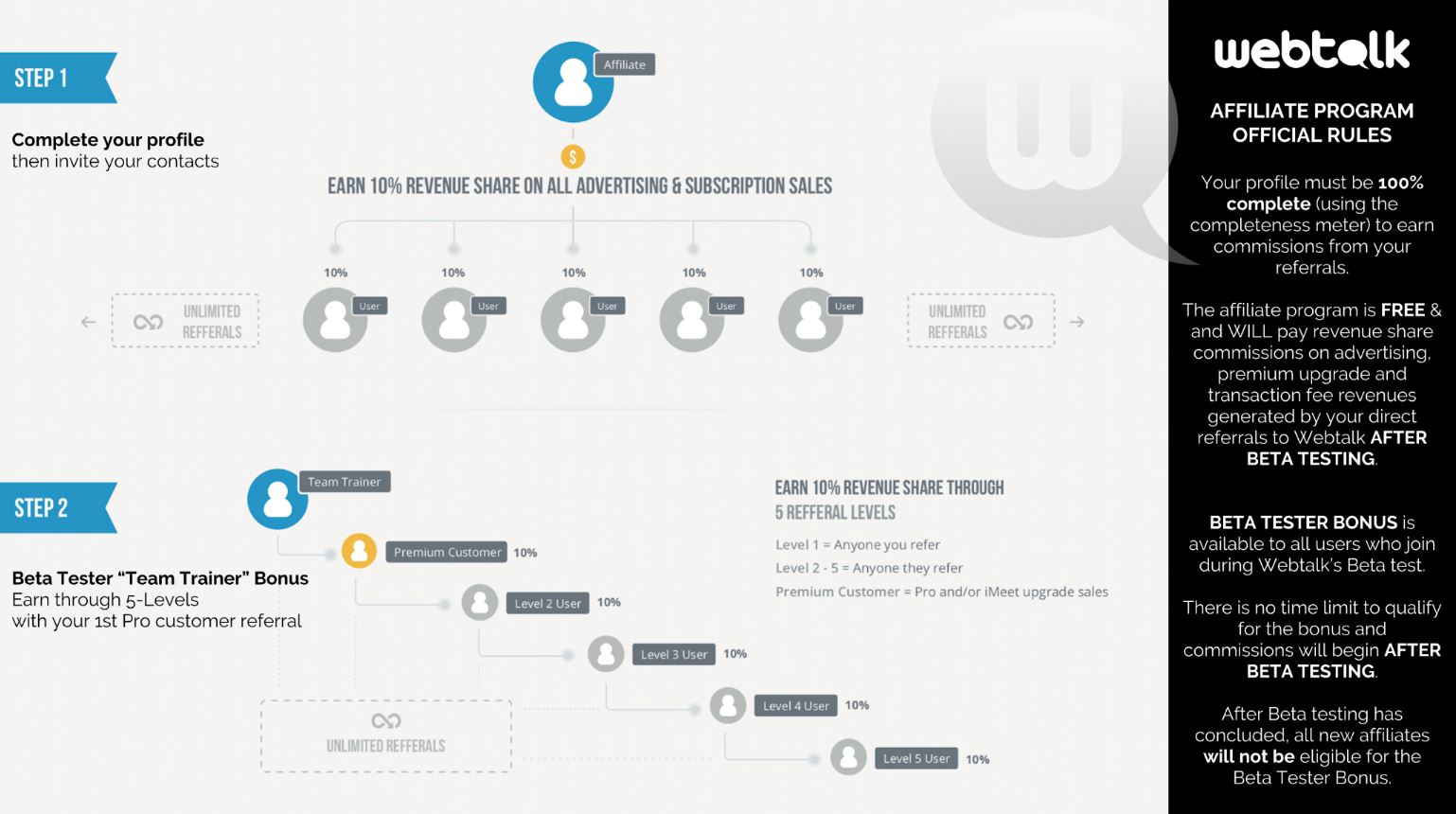 (Image from WebTalk.co)
1. 10% (your referrals)
BONUS: 
2. 10% 
3. 10%
4. 10%
5. 10% 
It's up to 50% revenue for LIFE!                                                                                                                                                                                                                                                                                                                              
Only users who join WebTalk's Beta test launch will be eligible for the 5-Tier revenue sharing commission plan upon the launch of the SocialCPX program. All others who join affiliate program after Beta testing has been completed will not be eligible for this bonus.
Market averages suggest the 5% of your referrals will upgrade from a Free account to a Paid Pro account (approximately 1/10 people you invite to WebTalk). Therefore, it is suggested to invite at least 20 people to join WebTalk to give you better opportunity to earn the bonus.
It's not a bad thing after all, and besides if there's no revenue to be generated then there'll be no revenue to share.
If you are wondering what will the Premium Pro Features Packages about, here it is :
                    ( Image from WebTalk.co )
Update November 7, 2018 : WebTalk released a sneak peek of the upcoming update. Which is the new and improved newsfeed talk box, where you can :
Post to Facebook from WebTalk
Post to LinkedIn from WebTalk
Post to Twitter from WebTalk
Post to Slack from WebTalk
Add multiple photos and videos to a slideshow post via YouTube and Vimeo links.
YouTube and Vimeo videos stored to profile galleries.
Consolidated shares of the same post my multiple contacts.
THINGS I DO NOT LIKE ABOUT WEBTALK
Upon joining WebTalk, there are few things that I didn't like and find it questionable (at first).
But it has all been answered as I spent some time in WebTalk, and learned more about it. Let me give examples :
When you go to the WebTalk's official site– You won't see much, details that will tell you about WebTalk.
No FAQ.
                                                                                                                                                          Image from WebTalk.co
My probable answer to these are because WebTalk is still in Beta and invitation only, therefore you have to get in to see or get information of what WebTalk is. Regarding FAQ, the CEO and Founder RJ Garbowicz' WebTalk profile serves as the FAQ for the time being.
So, hopefully these will all be resolved when WebTalk's Beta testing is completed and finally goes live.
Final Thoughts
So if you're gonna ask me if WebTalk is a scam?–
Well, it's still early to judge because like what I've mentioned, it's currently in Beta testing. We will find it out later on. But in my opinion I don't think it is.
Will it replace Facebook?
Possible. With all the developments and features that WebTalk are doing right now, plus the increasing members each month, yes, I can say that there is the possibility that WebTalk will replace Facebook.
So, remember it's "Invitation Only". You can not just go to WebTalk and create an account. YOU HAVE TO BE INVITED. If you are like me or curious, you can join me here, and decide later.
Come to think of it… If WebTalk becomes the biggest Social Networking platform, wouldn't you want to be the first / top of the line?
Their slogan :

Makes perfect sense because if WebTalk becomes successful, you would want to be close to the top and be the first to refer WebTalk to EVERYBODY you know before someone does!
Thanks for spending time with me again. Please let me know if you want to add something, or correct the information given. Write it down the comments below, I'll be happy to get back to you.
And if you find value on this post, please do share it. Thanks!
Wishing you success,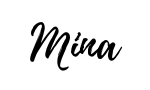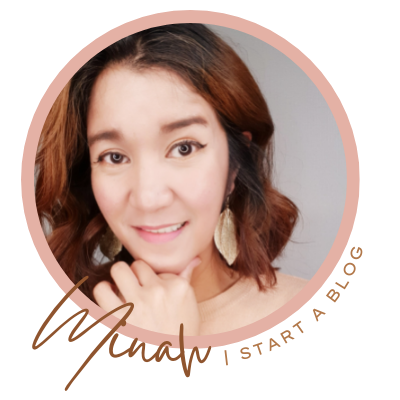 Hi there! This is Minah, the blogger behind of  Niches and Earnings | Start A Blog.
I created this website to be a place where you can get information on how you can start your blog. Also tips on blogging, how to use social media for your blog and make money in the cofort of your home.
Let's connect on social media too!