Since, Making Money Online has gone popular these days, we became familiar with terms and phrases like :
Passive income, Escaping the Rat Race, Ditching Your 9-5 Jobs, Living a Laptop Lifestyle, Work From Home and…  Affiliate Marketing.
Although there are other means of making money online, Affiliate Marketing is widely talked about and easy to start with. And most of the people who were successful started out in Affiliate Marketing
The phrases I mentioned in the beginning of this post are some of the concept behind Affiliate Marketing.
What is Affiliate Marketing?
Affiliate Marketing is a process of earning a commission from promoting other people's or company's product. You choose a product that is within your niche, promote it, and make a piece of earnings from the sale you make.
Although it seems complex, the practice is actually straight forward.
Let say for example, you are in a Running niche, you love running and that's what you're passionate about, then you choose a product that you think can help you and others (who's likes running like you) to achieve a better running, And the product can be a pair of running shoes, so you choose an affiliate network like amazon, choose the choose that you like, promote it, and if someone buys from you, you will get a commission from it.

How does Affiliate Marketing work?
Alright before we actually jump into How does Affiliate Marketing Works. We should understand first the components or parts of Affiliate Marketing. What it is and It's role in Affilaite Marketing.
The Seller / The Product Creator
The Seller, sometimes called the merchant, vendor, retailer or product creator. It can be a solo entrepreneur or a big company, that has or creates a product to the market. The products can be household goods, apparel, health drinks etc. or it can be on a form of ebook or service made by solo entrepreneurs like online courses, tutorials or cookbook.
The Seller or the Merchant does not have to be actively involve in the marketing. They just have to have a product a product to sell. Although, they do have a choice to be the advertiser as well and benefit on revenue sharing associated with affiliate marketing.
2. The Affiliate
Also known as the publishers. Affiliate can be an individual or a big company that promotes a certain product in an appealing and convincing way to potential costumers/consumers.
This is where the marketing happens. The affiliate will promote an affiliate product or more, to persuade potential consumers that the merchant's products is valuable or helpful for them. And convince them to purchase the product. If the consumer ends up on buying the said product, then the affiliate gets a share on the revenue made.
The affiliate has the option on how to promote the merchants' product(s), it can be through social media, by making a video, or the most commonly use, which is writing a content marketing blog.
In addition, Affiliates normally has a very specific targeted audience to whom they market a product.
In an effort to be completely transparent, I want to let you know that I have an affiliate relationship with some of the companies whose products or services I recommend.
This means that, at no additional cost to you, I will earn a commission or credit if you decide to buy any of their products or services.

Click here for more.
3. The Consumer
The consumer or customer is I think the most important part of Affiliate Marketing. They make the "Affiliate System" move like a cycle. Without the consumer purchases, then, there won't be any revenue or sales to be shared or commissions to hand out.
Once the consumer buys a product, the Seller/Merchant and the Affiliate share the profit. There are times that the consumer is unaware that he/she is buying an affiliated products. But these days more and more affiliates are becoming transparent to their consumers through disclosing or informing them that they'll get a commission on every sale as an affiliate.
Either way the product's cost and the product itself is not affected for the affiliate's share of profit is already included in the retail price. So there is no way that a consumer/costumer will pay higher price if it is an affiliated product.
4. The Network
Some may skip The Network as a part that consist of Affiliate Marketing structure. But I believe that this should be part of explanation as well because The Network serves or acts as mediator between the merchant and the affiliate.
In most cases affiliates need to go through an affiliate network to be able to promote a product. Therefore, The network is also considered as the database of different kinds of products for an affiliate marketer to choose from.
(Screenshot of Clickbank)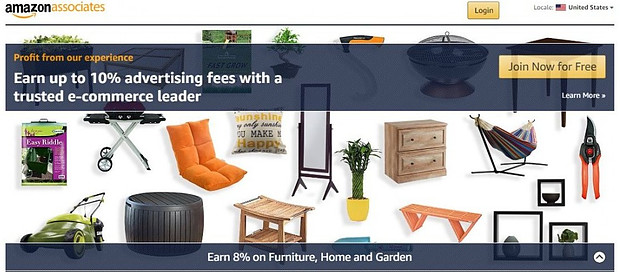 (Screenshot of Amazon)
The images above are just 2 examples of Affiliate Network.
Now that we know the components or parts of Affiliate Marketing, we can now proceed to the process.
How does Affiliate Marketing works? and How to get Started?
After we have learned the components of Affiliate Marketing, somehow, we are able to understand how it works. Let me show you a diagram that will represent the process and we will discuss it down this post.
(diagram from Wealthy Affialiate Training)
1. Customer – like what I've mentioned on my previous post, Costumer or Consumer is the one that make the Affiliate Marketing go 'round.
A customer who is on a diet looks for an item to buy, an Herbal Tea for example. So he/she searched it and landed to a website / blog.
2. Your Site – That customer landed in one of your blogs that talks about an Herbal Tea that attracted the customer, clicked your affiliate link that lead him/her to your….
3. Affiliate Network – … which can be an Amazon for example. That customer decided to purchase the Herbal Tea that you promoted, The Merchant will reward you as a thank you by giving                                                     you…
4. You Make Money – … a commission. That's the way you can earn from Affiliate Marketing.
How to get Started?
To get you started to be as Affiliate Marketer, you need to find a niche. A topic that you are familiar with that might be a problem for others– and you will be there to help those people or your target audience to solve their problems.
Read this post to learn more about  What Is a Niche Website, to understand it more.
Once you establish your niche, or the topic that you will be addressing it's time for you to think in what platform you want to execute your promotion, you can use other forms of social media– But, I believe the most effective way to promote a product is through Building a Niche Website.
After you have built your website, time to write quality content post. I would strongly suggest that do not start promoting if your website is empty, what I meant is, still lacking of posts and visitors or traffic.
Once you are, then you can go to any Affiliate Network and apply to be an Affiliate Marketer.
Afterwards, choose a product to promote, write a review about the product. Be consistent.
---
---
Alright, let's do a recap of my post.
Affiliate Marketing is a process of earning commission by promoting other people's or company's product. An Affiliate promotes the product by writing quality content post that will convince his/her consumer to purchase the product. If the consumer buy, then an affiliate will get a portion of the sale.
REMINDER
Although I mentioned that Affiliate Marketing is the easiest way to start Money Making Business Online, Affiliate Marketing takes a lot of time and effort to see results (getting commission). Make sure that you are ready to spend long time in your computer creating quality post and doing it consistently. Because success doesn't happen overnight.
Like the usual, if you have any comments, questions or something to add, you are welcome to leave on comments below, and I would be happy to get back to you. And if you want to know I built my website, click here.
Wishing you all success,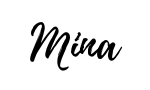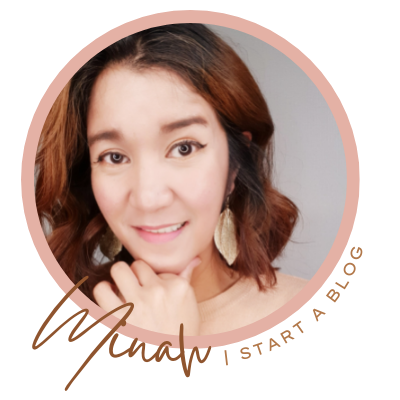 Hi there! This is Minah, the blogger behind of  Niches and Earnings | Start A Blog.
I created this website to be a place where you can get information on how you can start your blog. Also tips on blogging, how to use social media for your blog and make money in the cofort of your home.
Let's connect on social media too!